Post doctoral Associates
Amelia Wolf (Ph.D., Stanford, 2011) was hosted by the Young Lab 1026-2019, doing NSF-funded post-doctoral research (in collaboration with Duncan Menge at Columbia University) on the latitudinal distribution of nitrogen-fixing trees. Amy has also done research at Mpala in Kenya. Amy started her tenure-track position at the University of Texas, Austin in 2019.
Judith Sitters (Ph.D., ETH Zurich, 2012) is being hosted by both Vrije Universiteit Brussel (with Dr. Harry olde Venterink) and the NSF-funded Kenya Long-term Exclosure Experiment (KLEE). Judith is exploring how herbivory affects plant and soil stoichiometry in savanna ecosystems, supported by a grant from FWO (Belgian Science Foundation).
Katharine Stuble (Ph.D., Tennessee, 2013) was a post-doctoral researcher (and project manager) for the NSF-funded PRYER program from 2014 to 2016. Katie is broadly interested in the drivers of ecological communities (from ants to microbes to plants), including in the context of global change. After doing an ISEECI post-doc in 2016, she took a full-time position as a Research Scientist with the Holden Arboretum in Ohio.
Graduate Students
This cadre of incredible graduate students is examining applied and conceptual issues in ecology, restoration, and biodiversity conservation.
Ph.D. students (UC Davis, unless otherwise noted)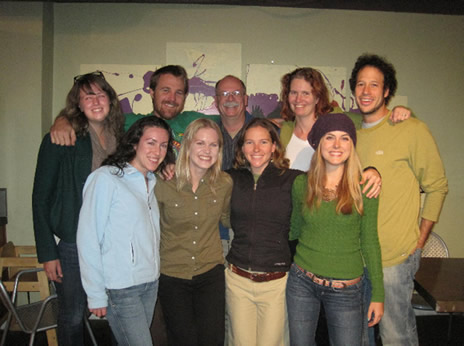 Chhaya Werner (Ph.D. 2018, co-advised with Susan Harrison) In addition to other research projects, Chhaya studies the role of climate, competition, and fire in community composition,combining approaches on multiple spatial and temporal scales. Chhaya was an NSF Graduate Research Fellow. Chhaya is beginning a post doc with Dr. Anu

Eskelinen at the German Centre for Integrative Biodiversity Research in Leipzig.

Grace Charles (Ph.D. 2018)  Grace is broadly interested in understanding the dynamics and drivers of savanna plant community ecology, including the potential impacts of large mammal extinction on plant communities. Grace has conducted research within the Kenya Long-term Exclosure Experiment (KLEE), as well as the Ungulate Herbivory Under Rainfall Uncertainty (UHURU) project at Mpala Research Centre in central Kenya.  Grace was an NSF Graduate Research Fellow, and is now Presidential Management Fellow.
Derek Young (PhD 2017, co-advised with Andrew Latimer) Derek is working to understand how climate change will impact California forests, applying principles from disciplines including biogeography, landscape ecology, community ecology, and ecological genetics. Derek was an NSF Graduate Research Fellow and an NSF IGERT fellow. Derek is currently a post-doctoral fellow with Andrew Latimer.
Laura Morales (Ph. D. 2017, co-advised with Richard Evans) studied the Polylepis forests of alpine Andes in Peru and Chile for her doctorate, particualrly in the context of how fire and livestock affect both natural regeneration and active restoration of Polylepis. Laura was an NSF Graduate Research Fellow. Laura currently work for the School for Field Studies in Peru.
Duncan Kimuyu (Ph.D. 2016, University of Nairobi) studies the effects of livestock and fire on wildlife in Kenya. He is on the faculty at Karatina University, and is the project manager of the Kenya Long-term Exclosure Experiment (KLEE). Duncan was recently awarded a prestigious Smithsonian Postdoctoral Fellowship for 2018-19.
Kelly Gravuer (Ph.D 2016, co-advised with Kate Scow): Kelly's research has sought understand potential impacts of climate change on ecosystem functions by improving our knowledge of plant and soil microbial community ecology. Kelly is an NSF IGERT fellow, an ARCS Fellow, and an EPA STAR fellow. Kelly was awarded a NatureNet Science Postdoctoral Fellowship to work with The Nature Conservancy and Arizona State University, and is now an AAAS Science & Technology Policy Fellow at US Environmental Protection Agency (EPA).
Steve Fick (Ph.D 2016) continues his interest in doing large-scale spatial analyses of environmental datasets. He is also interested in population and community processes in restoration, and carried out restoration research in Canyonlands National Park in Utah. Steve wass a Research Associate at the Stockhom Environmental Institute in Sweden, and is now a Postdoctoral Researcher with USGS in Utah.
Kristina Wolf (Ph.D 2016) Kristina's research focused on restoring healthy soil and plant communities in semi-arid and arid climates via various methods, including livestock grazing, with particular emphasis on whole systems of ranch management that focus on grazing livestock while keeping the restoration or conservation of ecosystem functions in mind. Kristina is currently an Ecologist for H.T. Harvey, a leading California restoration firm.
Jen Balachowski (Ph.D 2015; co-advised with Kevin Rice) studied the ecological and evolutionary responses of native grasses to climate change, particularly in the context of ecotype performance for restoration projects ("Restoring for the Future"). Jen was an NSF IGERT fellow, and did a Fulbright Fellowship in Montpellier, France, where she explored the ecophysiology of summer dormancy in California and Mediterranean grasses. She was a Climate HUBS post-doc at UC Davis, and just took a position as a Presidential Management Fellow with USAID.
Kevin Welch (Ph.D 2015; co-advised with Hugh Safford) is studying the landscape characteristics of post-fire pine and oak regeneration California, with grants he developed with the U.S. Forest Service.  Surveying hundreds of plots in dozens of fires, he has determined the key correlates of post-fire forest regeneration dynamics.
Emily Peffer Zefferman (Ph.D 2014) Emily studied how stream and riparian restoration may affect submersed aquatic plant communities.  Emily was a member of the Conservation Management Program. She is currently a Conservation Specialist at the Monterrey RCD.
Marit Wilkerson (Ph.D 2013) Marit's research examined invasive plant patterns in conservation linkages or corridors, forb restoration in the Central Valley, and effects of wildlife and cattle on pollinators in Kenya. More applied work included conservation-oriented projects including examining connectivity in State Wildlife Action Plans, assessing species and area vulnerability to climate change, and a guide for graduate students on skill sets for non-academic conservation careers." Marit was an NSF Graduate Research Fellow, and a member of the Conservation Management Program. and later an AAAS Science & Technology Policy Fellow in Washington, D.C., working with USAID. Marit is currently the Planning Director for the Nature Conservancy's Northern Great Plains program. Marit's website.
Starry Sprenkle (Ph.D 2013) (co-advised with Kevin Rice) initiated and continues to work with grass-roots agroforestry projects in Haiti, and is interested in the interface between ecology, environmental restoration, and sustainable development in the developing world. Starry was an NSF Graduate Research Fellow. She is currently Deputy Director of Programs at J/P Haitian Relief Organization.
Lauren McGeoch Porensky (Ph.D. 2012) Lauren links landscape and community ecology with conservation and restoration in rangelands, savannas and grasslands. Most of her work focuses on spatial patterns associated with plant and large herbivore communities. She is especially interested in finding conservation and restoration solutions for multi-use and human-dominated landscapes. Lauren was an NSF Graduate Research Fellow. Lauren is currently an ARS Ecologist for USDA in Fort Collins, CO.
Kurt Vaughn (Ph.D. 2011) was the Restoration Manager for California Audubon. He also ran the Restoration Practicum for the University of California, Davis. Kurt is Director of the Borderlands Restoration Network.
Corinna Riginos (Ph.D. 2008) studied of tree-understory interactions in Kenya; in particular, how these interactions are affected by herbivory and stand structure, with an emphasis on the management, restoration, and monitoring of rangeland health. Corinna was an NSF Graduate Research Fellow and a 2015 Early Career Fellow of the Ecological Society of America. Corinna is a co-PI of the current NSF-funded KLEE grant. She and Todd Palmer (see below) were also recently awarded an NSF grant to study the ecosystem impacts of invasion of savanna ecosystems by big-headed ants. Corinna is currently a Research Scientist for the Nature Conservancy in Lander, Wyoming.
Kari Veblen (Ph.D. 2008) is studying the causes and consequences of anthropogenic landscape heterogeneity in Kenya, and rangeland management and restoration in the western U.S. Kari was an NSF Graduate Research Fellow. Kari is an Associate Professor at Utah State University, and a co-PI of the current NSF-funded KLEE grant.
Jeffrey Clary (Ph.D. 2006) studied the relationship between annual and perennial plants in a restoration context, doing biogeographic and greenhouse studies in Catalonia and California. Jeffrey was an NSF Graduate Research Fellow. He the Director of the Stebbins Cold Canyon Reserve for the UC Davis Natural Reserve System.
Mikaela Huntzinger (Ph.D. 2005) studied the interactions between herbivores of very different body sizes, as they relate to biodiversity conservation, in Kenya and California. Mikaela Huntzinger spent 11 years as an academic developer in the Center for Excellence in Teaching and Learning at UC Davis, working with instructors who want to improve their teaching. Her interests include incorporating higher-order thinking skills into the curriculum; helping all students to learn, not just those who are easiest to teach; creating effective learning communities; and improving STEM education. Mikaela is now a private consultant.
Megan Lulow (Ph.D. 2004) studied grassland restoration in California, particularly the importance of priority effects in community organization. After many years as the Senior Field Ecologist at the Irvine Ranch Conservancy, Megan is currently the Administrative Director of UC Irvine's UCI-NATURE (UC Irvine's Networked Assets to Understand the Environment).
Michelle Gadd (Ph.D. 2003) studied the relationship between elephants and livestock on the land they share in Kenya and southern Africa. Most elephants occur outside of national parks, but her research was unique in examining the compatibility of pastoralists and elephants. Michelle is Africa Program Officer for the international Wildlife Without Borders Program of the USFWS.
Todd Palmer (Ph.D. 2001) is the prime mover of the ongoing acacia ant study, begun in 1998. This project has explored how spatial variation in community structure is influenced by interactions between tree ontogeny, local nutrient conditions, and the competitive abilities of different ant species. His work has expanded to include other aspects of ant-acacia mutualisms, and savanna ecology in general. Todd is an Associate Professor at the University of Florida.
Linde Ostro (Ph.D. 1998, Fordham University) studied the ecology of reintroduced howler monkeys in Belize. Despite the prevalence of reintroduction as a species restoration technique, this study is one of the first to detail the ways in which reintroduced animals establish themselves in novel environments. Linde is the Senior Vice President of Development at the New York Academy of Sciences.
Faith Kostel-Hughes (Ph.D. 1995, Fordham University) has studied the interactions between leaf litter and forest seed banks along an urban-rural gradient, demonstrating dramatic and hitherto unrecognized changes in litter quantity and quality associated with urbanization, with important consequences for forest restoration. Faith is Director of Environmental Studies and Associate Professor of Biology at the College of New Rochelle.
Ph.D. affilliates
Masters students
Mila Dunbar-Irwin (M.Sc. 2014) (co-advised with Hugh Safford) compared stand stucture of conifer forests in California (with a long history of fire suppression) and Baja (where there has been far less fire suppression), and studied agricultural ecology in Central America.
Alex Palmerlee (M.Sc., 2007) examined the cost-effectiveness of multiple restoration techniques for woody species in rangeland and riparian sites. He was the Manager of the Audubon Bobcat Ranch, and conservation/restoration area in Yolo County, California, and now splits his time between northern California and New Orleans, where he is a budding filmmaker.
Tracy Erwin (M.Sc., 2007) examined recruitment limits to restoration in endangered Hawaiian trees.
Mia Ingolia (M.Sc., 2006) examined the germination ecology of a threatened plant, the Tahoe Yellow Cress. Mia, formerly the Curator and GIS Manager at the UC Davis Arboretum and Public Garden, is a biologist/botanist at the San Francisco Public Utilities Commission. Mia guides Habitat Conservation work on the 63,000 acres of SFPUC lands, including Hetch Hetchy, and helps develop the SFPUC East Bay Watershed Interpretation Center's 3-acre garden and native plant nursery.
Susan Infalt (M.Sc, 2006) studied the restoration of degraded, abandoned campsites in King's Canyon National Park. She currently works as a staff scientist for Garcia and Associates.
Debbie Petersen (M.Sc. 2005) examined grassland restoration in California ecosystems where native annuals predominate, and in particular the beneficial effects of reseeding after fire. She is currently an Instructor at Las Positas College, and consulting restoration ecologist.
Russell Huddleston (M.Sc., 2001) explored different soil modifications and planting techniques as they affected the restoration of grasslands in a vernal pool ecosystem in Oregon. Russ is a staff scientist for the environmental firm E2 in Sacramento.
Ryan Deering (M.Sc., 2001) examined the potential for seed priming to shift the competitive balance between exotic annuals and native perennials in California grasslands. Ryan is the GATEways Horticulturist at the UC Davis Arboretum.
Diana Hershey (M.Sc., 1999) carried out a study of the effects of soil substrate and plant provenance on ecological restoration along Cache Creek, California. Diana is a Planner for the County of Mendocino.
Masters affiliates
Vanessa Ndoo (M.Sc. 2012, University of Nairobi) studied dung deposition and decomposition rates in Laikipia rangeland. She is currently a Project Officer for BirdLife International.
Antony Kirigia (M.Sc. 2009, University of Nairobi) studied the economic and ecological consequences of manure exports from degraded rangelands. He now he works for Farm Concern International in Nairobi.
Isaac Kimathi (M.Sc. 2008, University of Nairobi) examined the effects of fire on primary productivity in Laikipia grasslands. Isaac is a Deputy Research Manager for the Kenya Union for Savings and Credit Cooperatives, Ltd (KUSCCO).
Silvanos Otieno (M.Sc. 2005, University of Nairobi) studied the effects of herbivory by different guilds of large mammals in Kenya on the productivity and standing biomass of a savanna ecosystem. Until his death, he worked as Coordinator for the Mikinduri Children of Hope Foundation.
Wilfred Odadi (M.Sc. 2003, Moi University) studied the foraging ecology of cattle in Kenya, and how it is influenced by competition with native wildlife. He went on to earn a doctorate with KLEE at Egerton University, Kenya (see above).
John Mugo Kagori (M.Sc. 1999, University of Nairobi) studied the ecology of nitrogen fixation in Acacia drepanolobium. He currently teaches in Nairobi.