Recent Lab News:
January 2019: Wilfred Odadi is awarded a two-year FLAIR fellowship from the Royal Society (London).
December 2018: All my chicks have fledged, and soar high above and far afield.
November 2018: Brad Bergstrom's grand survey of Mpala rodents (including KLEE) appears in Ecosphere: "Searching for cover: soil enrichment and herbivore exclusion, not fire, enhance African savanna small-mammal abundance".
November 2018: Derek Young's paper, "Post-fire forest regeneration shows limited climate tracking and potential for drought-induced type conversion", is accepted for publication in Ecology.
November 2018: Jen Bakachowski accepts a position at the US African Development Foundation (as part of her Presidential Management Fellowship).
November 2018: Chhaya Werner is awarded her doctorate. Congratulations, Chhaya!

November 2018: Nature Ecology and Evolution published Sally Koerner's monster meta-analysis on the effects of herbivores on plant communities, including data from KLEE ("Resolving variation in herbivore effects on plant biodiversity– dominance as a global mechanism").
November 2018: The multi-lab synthesis, "Conservation and management lessons from large-mammal manipulations in East Africa – KLEE, UHURU, and GLADE" appears in The Year in Conservation and Ecology (Annals of the New York Academy of Sciences).
October 2018: Kelly Gravuer gets married (to Jeff Le), and accepts a position with the EPA in Washington, D.C.
September 2018: Chaya Werner accepts a post-doc with Dr. Anu Eskelinen at the German Centre for Integrative Biodiversity Research, Leipzig (and Finland). Congratulations, Chhaya!
August 2018: Ghost-doc Amy Wolf accepts a tenure-track position at the University of Texas, Austin. Congratulations, Amy!
July 2018: Laura Morales' paper, "Differential seedling regeneration patterns across forest-grassland ecotones in two tropical treeline species (Polylepis spp.)" comes out in Austral Ecology.
July 2018: Ecology and Evolution accepts for publication Wilfred Odadi's paper, "Cattle preferentially forage on African savanna termite mounds, but not when they share habitat with wild ungulates".
June 2018: Truman takes over as Chair of the UC Davis Graduate Group in Ecology. What was he thinking?
May 2018: Our synthesis paper, "Relationships between cattle and biodiversity in a multi-use landscape revealed by the Kenya Long-term Exclosure Experiment (KLEE)", is published in Rangeland Ecology and Management as the Editor's Choice.
April 2018: Katie Stuble's lab paper on year and site effects in California restoration ("Every restoration is unique", which appeared in the Journal of Ecology last July, is named a "Highly Commended Paper" (short-listed for the Southwood Prize)
March 2018: Ecological Applications publishes Riginos et al.'s paper, "Herbivory and drought generate short-term stochasticity and long-term stability in a savanna understory community", summarizing stability and resilience patterns from 20 years of KLEE data.
February 2018: Duncan Kimuyu and Eric LaMalfa (w/ Truman and Chhaya and an army of assistants) carry out 36 controlled burns in KLEE.
January 2018: Duncan Kimuyu is awarded a prestigious Smithsonian Postdoctoral Fellowship. Congratulations, Duncan!
January 2018: The KLEE project is awarded its third NSF REU grant, the second senior-authored by UCSB grad student Elizabeth Forbes. UC Davis undergraduate Grace Lewin will be joining her this summer in Kenya.
December 2017: Gilfred Powys, naturalist extraordinaire and mentor to many, was killed by an elephant on his ranch in Laikipia, Kenya.
December 2017: The only UC Davis awardees for this year's prestigious Presidential Management Fellows (PMF) Program (and 2/3 of Ecology applicants nationally) are from the Young Lab: Grace Charles and Jen Balachowski. PMFs are fast-tracked for career jobs in the federal government. Congratulations Jen and Grace!
December 2017: Lab paper on the restoration implications of priority (wrapped around a summary of PRYER results) is published Restoration Ecology (after being online for 18 months!).
November 2017: Derek Young is awarded his doctorate in Ecology, and starts his postdoc with Andrew Latimer. Congratulations, Derek!
October 2017: Lauren Porensky receives the Outstanding Young Range Professional Award of the Society for Range Management. Congratulations, Lauren!
October 2017: Kurt Vaughn takes a position as Director of the Borderlands Restoration Leadership Institute.
September 2017: Marit Wilkerson takes a position as Planning Director, Northern Great Plains, with The Nature Conservancy.
August/September 2017: Annual meeting of the Society for Ecological Restoration (SER) in Brazil. Truman presented: "Context-dependence of priority effects in the restoration of California grasslands".
August 2017: Laura Morales takes a position as an Instructor for the School for Field Studies, Peru.
August 2017: Jen Balachowski's paper, "Implications of plant functional traits and drought survival strategies for ecological restoration" appears online in the Journal of Applied Ecology.
August 2017: Kristina Wolf's paper on the cascading effects of grassland restoration on rodents, snakes, and raptors appears online in the Journal of Applied Ecology.
August 2017: Ten current and recent lab members (and a mystery man) converge on Portland, Oregon for the Annual Meeting of the Ecological Society of America. Sitting: Kari Veblen, Lauren Porensky, Truman, Elizabeth Forbes. Standing: Kevin Welch, Chhaya Werner, Jen Balachowski, Grace Charles, Katie Stuble, Amy Wolf, Corinna Riginos, Han Olff.

July 2017: Kelly Gravuer's paper, "Nutrient and rainfall additions shift phylogenetically estimated traits of soil microbial communities" is published in Frontiers in Microbiology.
June 2017: The KLEE project (the Kenya Longterm Exclosure Experiment) exceeds 100 publications (70 from the exclosures themselves), making it the most productive field experiment ever carried on on the continent of Africa.
June 2017: Kristina Wolf shepherds a lab review on the role on restoration in responding to climate change, published in Grasslands.
June 2017: Kari Veblen gets tenure at Utah State University. Congratulations. Kari!
May 2017: Corinna Riginos takes a position as Conservation Scientist for The Nature Conservancy in Wyoming.
May 2017: Lab gets two papers published in Ecology, one first-authored by Ryan Sensenig on fire and ants in KLEE (Kenya) and one first-authored by Katie Stuble on priority effects, year effects, and site effects in PRYER (California).
May 2017: Duncan Kimuyu's paper the effects of cattle, rainfall and elephants on wildlife habitat use appears in Ecological Applications.
April 2017: Wilfred Odadi's paper on post-fire competition between wildlife and cattle is chosen as an Editor's Choice in the Journal of Ecology. Well done, Wilfred!
March 2017:  Kristina Wolf takes a position as a restoration scientist at H.T. Harvey.
March 2017: Laura Morales is awarded her doctorate in Ecology. Congratulations, Laura!
January to August(?) 2017: There is an invasion of hundreds of armed herders and over 100,000 cattle into Laikipia, Kenya.
January 2017:  Paper on the effects of wildlife and cattle on savanna primary productivity, senior-authored by Grace Charles and Lauren Porensky, is published in Ecological Applications.
December 2016: Starry Sprenkle's paper on agroforestry/restoration in Haiti is published in Ecological Restoration, and gets the cover photo!
December 2016: Duncan Kimuyu is awarded his Ph.D. from the University of Nairobi. Congratulations, Duncan!
November 2016: Lauren Porensky's paper on edge effects and patch orientation appears in Landscape Ecology.
October 2016: Laura Morales is co-author on a Polylepis genetics paper published in Austral Ecology.
April-September 2016: the extended lab celebrates two engagements, two marriages, two babies, and two more on the way!
September 2016: Chhaya Werner's first-authored paper on the long-term effects of priority planting in restoration is published in Ecological Applications.
September 2016: "Are cattle surrogate wildlife?", summarizing 15 years of KLEE vegetation data, is published in Ecological Applications, and gets the cover photo!
August 2016: Kelly Gravuer is awarded her Ph.D. degree. Congratulations, Kelly!
August 2016: Kristina Wolf's paper the relationship between livestock production and recreational use of public lands is accepted for publication in Rangeland Ecology and Management.
July 2016: Jennifer Balachowski's paper on the physiological correlates of summer dormancy in grasses is published in Annals of Botany.
July 2016: Steve Fick's paper on restoration on the Colorado Plateau is published in Ecosphere.
July 2016: Jen Balachowski and Kristina Wolf are awarded Shapiro Family Awards for the best doctoral dissertations at UC Davis in Plant Sciences and Agroecology, respectively. Well done, Kristina and Jen!
June 2015: Kristina Wolf's paper exploring the use of flushing annuals as a restoration technique is published in Ecosphere.
May 2016: Steve Fick and Kristina Wolf earn their Ph.D.'s in Ecology. Congratulations, Kristina and Steve!
March 2016: Chhaya Werner is awarded an NSF Graduate Research Fellowship. Way to go, Chhaya!
March 2016: Emily Zefferman accepts a Conservation Ecologist position with the Monterrey Resource Conservation District (RCD). Congratulations, Emily!
March 2016: Steve Fick accepts a Research Associate position with the Stockholm Environmental Institute, Sweden. Congratulations, Steve!
March 2016: Truman co-leads an 18-day graduate field course down the Colorado River through the Grand Canyon, and survives.
February 2016: "Leveraging nature's backup plans" appears in Restoration Ecology.
January 2016: Mila Dunbar-Irwin's paper comparing yellow pine forests in (burned) Baja and (fire-suppressed) California comes out in Forest Ecology and Management.
December 2015: Katie Stuble wraps up her post-doc in the Young lab to start an ISEECI post-doc, followed by a full-time position with the Holden Arboretum in Ohio.
December 2015: Jen Balachowski earns her Ph.D. in Ecology. Congratulations, Jen!
August 2015: First paper on the synergistic effects of fire and herbivory appears in the Journal of Animal Ecology.
June 2015:  A lab-written paper on the low invasion of harsh sites (senior-authored by Emily Zefferman) appears in AoB PLANTS.
June 2015: Emily Zefferman is awarded a Shapiro Award for the best dissertation in Ecology at UC Davis. Congratulations, Emily!
June 2015: Lab paper on fire revealing cryptic plant diversity, first-authored by Derek Young, is published in Ecosphere.
Spring 2015: The Ecological Society of America announces their 2015-19 cohort of (nine) Early Career Fellows. One is lab alumna Corinna Riginos. Congratulations, Corinna! Three others are past or current KLEE researchers at Mpala (Hillary Young, Rob Pringle, and Brian Allan).
OK, Back to Truman's stuff:
Professional History:
2003-present: Professor and Restoration Ecologist, University of California, Davis
1996-2003: Lecturer, Assistant and Associate Professor, University of California, Davis
1992-96: Associate Professor, Fordham University
1981-91: Post-doc, Lecturer, Consultant, Tour Guide, Scientific Director, peripatetic tropical ecologist
1976-81: University of Pennsylvania (Ph.D.)
1972-75: University of Chicago (B.A.)
Research Interests:
I have broad interests in plant population and community ecology, including more than 40 years of research in Africa.  For the last 25 years, I have been involved with more applied research at the community and landscape scales in California and Kenya.  My current research projects are related to the ecology, management, restoration, and conservation of human-dominated landscapes.
My current research focuses on the following projects:
Secondary (and past) research includes:
My early research (1970s and '80s) concentrated on basic and theoretical questions in population ecology, and the Ecology of Mount Kenya.
I also have collaborated with Lynne Isbell in her studies of primate behavioral ecology.  I provide a life history and plant ecological perspective to her explorations of how food and predation influence the evolution of mammalian behavior. (Behavioral ecology publications).
I am a member of the Graduate Group in Ecology and the Center for Population Biology.
See this link for more details on graduate student research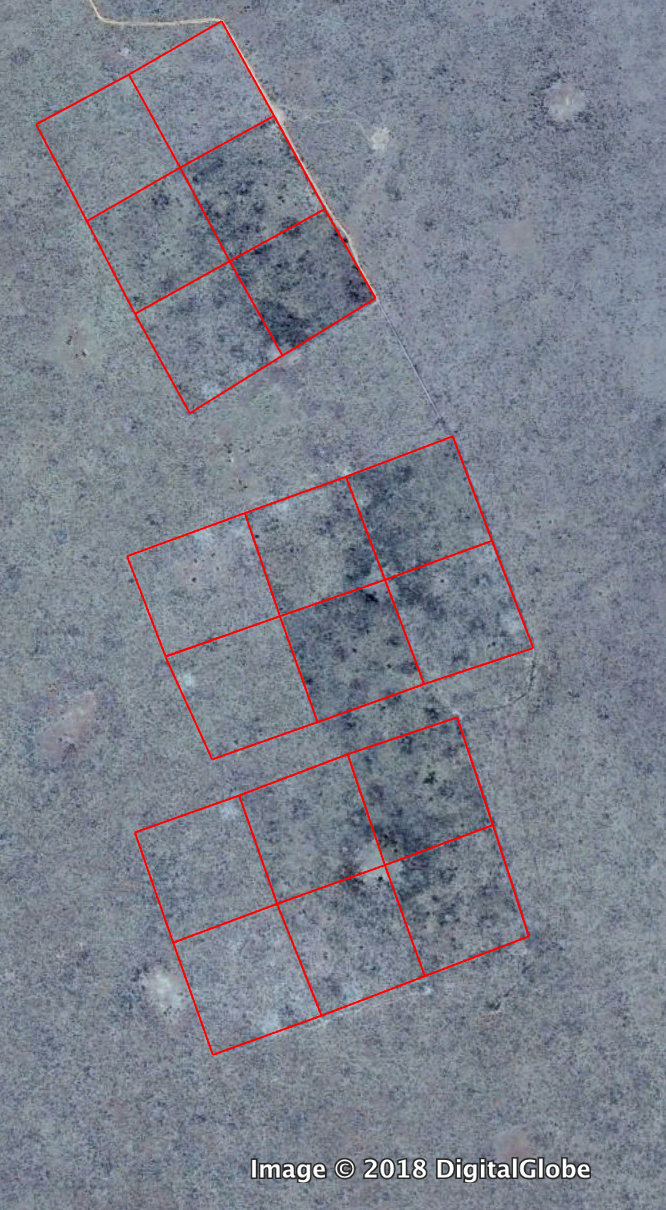 Satellite view of the KLEE exclosure plots in Laikipia, Kenya, where we have been excluding various combinations of cattle, wildlife, and mega-herbivores (elephants and giraffes) from a savanna grassland since 1995.  Each of the 18 plots is 200m x 200m.  This is an image taken 2015 (Google Earth). Darker areas are indicative of greater densities or forbs and woody species.  The larger white areas are anthropogenic glades, and the smaller (30m x 30m) white squares visible in some plots are the 2013 controlled burns.